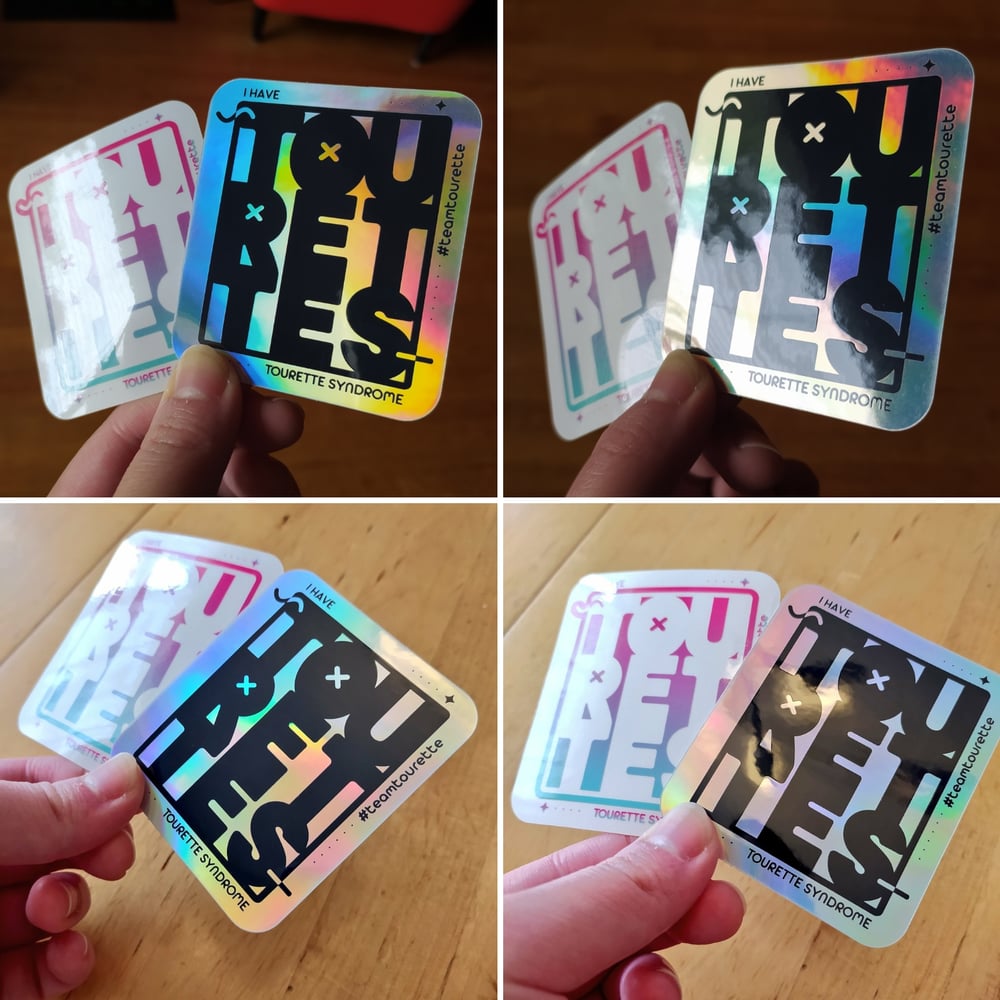 Raise awareness and acceptance with style, through these super shiny, super glossy Tourette Syndrome stickers! End the stigma surrounding Tourettes by blinding people with the Facts with these neat, little, lovingly designed rectangles :D
50% of proceeds from these stickers will get donated to both The Tourette Association of America (tourette.org) and Tourette Canada (tourette.ca) at the end of every year!!! (and the other 50% helps keep me alive and make more stickers!!!)
~~~~~~~~~~~~~~~~~~~~~~~~~~~~~~~~~~~~~~~~~~~~
SPECIFICATIONS:
> Water-proof holo and clear vinyl
> 3 in / 7.62 cm tall
> Side-effects may include casually educating the general public regarding Tourettes Syndrome and what it entails.
> Colors may vary slightly from product image
~~~~~~~~~~~~~~~~~~~~~~~~~~~~~~~~~~~~~~~~~~~~
SHIPPING:
> Local in-person pick-up available, contact me to meet up within Metro Vancouver! Use discount code "145PICKUP" to waive the shipping fee!
> Flat items, such as stickers and prints will NOT have Tracking, as they will be sent as lettermail.
> Shipping times differ depending on the efficiency of your local postal service. The times listed below are just an estimate.
> Domestic (Canada): 2-8 business days
> International: 9-21+ days (could be longer due to Canada Post)
>As of July 1st, 2021, all EU and UK customers will have to pay additional VAT taxes and service fees incurred at your country's custom offices, no matter the package value.
Shieonn will not be collecting or remitting VAT, meaning it will be collected by your country when the package reaches customs. Depending on where you are, package delays (additional 2 weeks) and additional processing fees may apply. Please check with your country's customs office to determine what your additional costs will be before buying.
Please understand that import taxes are not the responsibility of Shieonn, and are not included in the item price or shipping cost. Additional taxes/charges/fees are the customer's responsibility and must be paid to your country to claim your package.
If we receive a returned package from customs:
a) Pay shipping again to have the package re-sent OR
b) Refund your order, minus the 10% restocking fee and the original shipping costs.
Thank you for understanding!